Call Now to get your lowest price. We will beat any low price. Guaranteed! 212-871-8989.
Stock: We have 25000 sq feet left. More on the way in couple of weeks. Reserve yours asap
This is the softest and best quality of famous Turkish mosque carpeting. 14mm (half inch) thickness make it comfy to pray on. Our prayer mosque carpets has passed the fire rating that is required from your town building inspection. You will not have any issue, when you present our company name along with the certificate.

Antibacterial
Stain Resistant
Non-Shedding
Easy Maintenance
Most Durable
Thickest & Heavy
Famous Turkish Manufacturing
Trusted Brand
Price is sold by the square feet. You can buy your order here or you can call us and we will guide you thru your purchasing experience. We guarantee you that it will be fast and smooth transaction.

Specification Sheet

Typical life: 10 to 15 years
Fiber type: %100 heat set Polypropylene
Knot count: 880,000 points per sq meter
Yarn Thickness: 2000 dTex yarn
Face weight: 130 oz./sqy (4 kilo per m2)
Pile density: 9360
Pile height: 14mm, (1/2 inches)
Backing: Jute
Pattern repeat: 22-inch x 12-inch
Fire Rating: Key test CFR 16 Part 1630/1631 PASSED
Our carpets has passed the fire rating that is required from your town building inspection.
Mosque Carpet for sale by sq feet.
Materials

✔ %100 Heat-set Premium 2000dTex Polypropylene Non-Flammable yarn.

✔ Sturdy heavy duty jute backing.
Shipping

Paid orders are shipped in 1 business day.
Dimensions

Standard size of the rolls are 8.2 x 76 feet and
4.1 x 76 feet. The size will vary based on the total amount you will
need. We will notify you the size of the roll you will be getting.

8.2x76 ft carpet is 100 x 25 x 25 inches rolled - 450 lbs

4.2x76 ft carpet is 50 x 25 x 25 inches rolled - 225 lbs
Care Instructions

We recommend vacuums without the spinner/beater. Use only vacuum. You
don't need the spinner head brush. You can wash the carpet with steam
cleaner, without chemicals, use only regular carpet shampoo with steam
cleaner once a year.
Share
View full details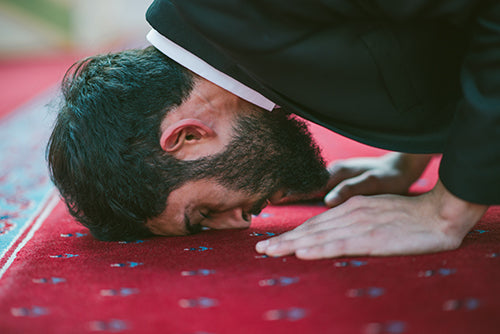 Choose the Best Carpet
We have tested numerous productions to find the best carpet quality needed for a mosque. When you are on sajda your forehead feels the softness of our carpet, plus, the yarn is very strong for long lasting years. This is our unique production technique.
880,000 vs 1,100,000

880,000 point with 2000 dtex premium yarn is definitely more durable and long lasting than 1,100,000 point 1600 dtex thin yarn. You won't be disappointed when you buy ours.

%100 Best Quality Materials used

Our yarn is produced by well-known factory that supplies yarn to Safavieh, Crate-Barrel Home, Mohawk, ABC Carpet Home. You should feel safe and confident about your choice.